I am a professional seamstress with over thirty years of experience serving individuals, businesses, and organizations in the Lafayette, Indiana area. I specialize in alterations, repairs, bridal and formalwear.
Call or email me today to schedule an appointment!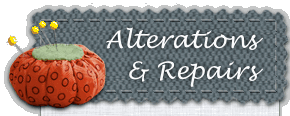 Does your favorite pair of slacks have a ripped seam? Found the perfect skirt, but it's just a bit too long? Don't give up on your favorite clothing – a well-placed alteration or repair by an experienced seamstress can bring it back to life! You will be thrilled to have your best outfit back, and it costs less than you think! Call or email me today for a free consultation.

You want to look your best at your wedding, prom, or other special occasion. I can help you create the custom-made dress of your dreams, or maybe make that designer gown you ordered fit you just right. Wedding gowns, bridesmaid dresses, prom dresses, and more – I've been adding the personal touch to your bridal parties and special events for more than thirty years. Call or email me today to make that dream dress a reality!

Cloth diapers are great for saving money – and the planet! But what do you do when the velcro on your high-end cloth diapers starts to lose its grip? Don't buy new diapers, bring new life to your old ones by converting them to snaps! I can replace your old "hook-and-loop" fasteners with long-lasting plastic snaps for a fraction of the cost of new diapers. Call or email me me to learn more!